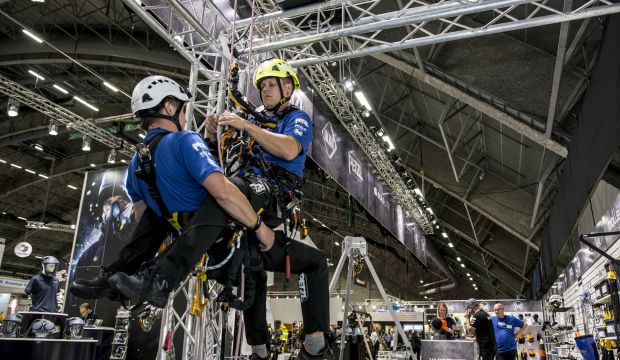 Change, mind, preparation, and interaction – how is your field doing?
Press Release 13.09.2022
The working life super-week that starts today will dive headfirst into topical issues, latest solutions, and long-awaited encounters. Between September 13–15, the halls of the Tampere Exhibition and Sports Centre will be filled with EuroSafety, the number-one international event for safety – and the largest personal protection fair in the Nordic countries; the fair for work capability and occupational well-being, Workplace Welfare; and between September 14–15 with the International Trade Fair for Food and Drink for food industry professionals and with the Logistics fair for inbound logistics professionals.

The working life is under transformation. Future work will change, starting from the individual level and expanding on a global scale. This will require new kinds of solutions, services, and preparation, but also a new way of thinking, flexibility, and perspectives.
– It's really great that we get to meet at the fair after such a long pause! Now, more than ever, we need shared discussion on work and how work will be performed in the future. Hybrid work, for one, challenges leadership and coping at work. Recovery and supporting mental well-being are skills that we all must practice to benefit from them in the ever-changing everyday grind of working life. Maintaining and developing know-how will become increasingly important in the future with fiercer competition over workforce. Our fair will offer solutions to issues such as learning in virtual reality and networks. You can grab the best parts of each fair with just one registration and see the fields' players live. Not to mention the top-notch, high-level programmes these four fairs will offer in addition to the diverse stands. I am truly excited to take part in the fairs and to meet customers! It will be wonderful to meet old acquaintances after a long pause, and meet new people, says Director Marja Tuomainen from the Finnish Institute of Occupational Health.

Preparing for change, mental skills, and appreciation for diversity

At the EuroSafety fair, and in the surrounding world, people are especially talking about preparing for change. At the time of crisis, one must know how to act and preparing also includes contingency plans. In addition to encounters and discussions, the number-one event in the field of safety will offer the most up-to-date solutions, products and services, and an amazing programme. EuroSafety will be organised in cooperation with the Finnish Work Safety Association (STYL). Mental skills have taken an increasingly major role as an essential part of constant change. Workplace welfare focuses on interaction, resilience, and our differences as human beings – appreciating and valuing it as an unquestionable strength. The human mind leads action and how we relate to matters. Investing in mental well-being is all the more evident in many areas of work and in all fields. The first-rate programme of Workplace Welfare will provide, among other things, the seminar for current affairs that change daily, hosted by the event main partners the Finnish Institute of Occupational Health, Rastor-instituutti, occupational pension company Elo, and insurance company Fennia. In addition to Fennia and Elo, Wednesday's seminar will be co-hosted by Pihlajalinna.

Uncertainty amidst the energy crisis and adapting to changing environments

The Trade Fair for Food and Drink's programme concentrates on tackling the energy crisis and the price increases of raw materials causing uncertainty in the industry. How will the changes to the operational environment show in the consumers' behaviour? An interesting panel discussion, scheduled for Thursday, will analyse this topic and think about solutions to the availability struggles of the cost crisis. Responsibility is a hot topic in package design solutions and food innovations. Topics in the Logistics fair include automated logistics systems and the growing demands of the industry's inbound logistics. What role will online sales take in the future field of logistics? On Wednesday, LOGY ry will award the year's innovation recipient in inbound logistics.
Media accreditation open for the whole duration of the event

Accreditation for the working life super-week is now open. You can use one accreditation to participate in each of the simultaneous events, between September 13-15 in EuroSafety eurosafety.fi/fi/messuinfo/medialle/ and Workplace Welfare tyohyvinvointimessut.fi/fi/messuinfo/medialle/, and between September 14-15 in Food and Drink elintarviketeollisuus.fi/fi/messuinfo/medialle/ and Logistics logistiikkamessut.fi/fi/messuinfo/medialle/. Our communications team will be happy to assist you in any interviews and meetings you wish to arrange.
ADDITIONAL INFORMATION: eurosafety.fi #eurosafety #safeandsound tyohyvinvointimessut.fi/fi/ #työhyvinvointi #ihmisellistätyöelämää elintarviketeollisuus.fi/fi/ #elintarviketeollisuus and logistiikkamessut.fi/fi/ #logistiikka
Tampere Trade Fairs Group, tampereenmessut.fi, firstname.lastname@tampereenmessut.fi
EuroSafety and Workplace Welfare
Jani Maja, Sales Manager, Project Manager, tel. +358 50 356 1325
Sirkka Laine, communication specialist, tel. +358 40 612 9081
Food and Drink and Logistics
Heli Lempinen, Project Manager, tel +358 40 667 1702
Nette Kivimäki, communication specialist, tel. +358 40 641 3369