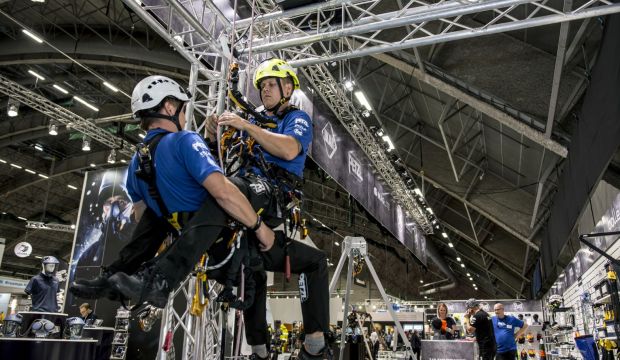 EuroSafety protects in September in Tampere
Press Release 22.06.2022
The number one event of the safety industry, Nordic's largest trade fair for personal protective equipment, EuroSafety, will be held on 13-15 September at the Tampere Exhibition and Sports Centre. This autumn, the three-day professional safety event will offer a wide range of topical solutions, encounters, speeches and unprecedented programme coverage. Registration for the event is open.

The autumn 2022 EuroSafety brings together thousands of safety professionals, volunteers and future experts to meet, network and train – safely and functionally. The three-day professional safety event covers safety and risk management, the latest protective equipment and the whole range of smart solutions.

Safe and Sound – Riku Rantala, Tunna Milonoff and Jarppi Leppälä star as performers
EuroSafety, which will take place after a few years of break due to the pandemic, offers not only encounters and the most up-to-date solutions in the industry, but also an unprecedented programme. On Tuesday, the opening day of the event, Jarppi Leppälä opens up the perspective of the Duudsons, known for their fierce and blatant stunts, on safety in his speech Safety Behind the Stunts. On Thursday, EuroSafety brings Madventures' Riku Rantala and Tunna Milonoff to the stage. On their fast-paced lecture, they share the safety lessons learned of security of supply to coping. According to Rantala and Milonoff, coping, meeting different cultures and predicting safety is largely a matter of practice, one's own attitude, overcoming fears and good cooperation.
"In a changing world, the safety industry as well is undergoing a different kind of transformation than perhaps never before. We are extremely happy that our awesome programme responds to the current thinking and provides an interesting coverage throughout the safety industry. Our programme's top speakers, Riku Rantala and Tunna Milonoff from Madventures and Jarppi Leppälä from the Duudsons, bring interesting perspectives from different fields, however, where safety at work and the importance of safety are strongly discussed. This also clearly shows that the topics in the field concern everyone and almost everywhere", says Johanna Hannelius, Programme Producer of Tampere Trade Fairs.
A seminar From Occupational Safety and Health to Comprehensive Safety Management will be held on Wednesday. The main focus of Finnsafe association's trade fair seminar is on safety management. Two hundred people who first register will have an Innotiimi seminar on Measuring in Modern Occupational Safety Management – a seminar to discuss what should be taken into account in measuring occupational safety, so that development and learning become continuous and changes permanent. Current issues Why and how did technology become a critical part of safety management will be reflected in Mr. Quentici's speech. John Bergman, Managing Director of the Finnish Association for Occupational Safety and Health STYL, opens the topic "How can I influence occupational safety?" every day of the fair.

At EuroSafety 2022 you are Safe and Sound, as the slogan of the event says. Check out the updated programme and register at Admission | EuroSafety.

Humane working life at the Well-being at Work fair
The Well-being at Work fair, organised simultaneously with EuroSafety in September focuses on interaction, the transformation of work, relevance and culture. Encountering matters, also in working life, and the fair will consider, for example, how high-quality interaction shapes working life. There will be first-class speakers, from champion coach Jukka Jalonen to journalist Nicklas Wancke. During the same week, a dive into the depths of working life will also take place at the Logistics and Food Industry Fair on 14-15 September.
The international professional safety event and the personal protective equipment trade fair EuroSafety will be held at the Tampere Exhibition and Sports Centre on 13-15 September 2022. The three-day trade fair event covers safety and risk management, latest protective equipment and a whole range of smart solutions. Eurosafety is organised in cooperation with STYL – The Finnish Association for Occupational Safety and Health. At the same time, EuroSafety will host a Well-being at Work fair and a two-day Logistics and Food Industry trade fair on 14-15 September 2022.

FURTHER INFORMATION: www.eurosafety.fi/en #safeandsound tyohyvinvointimessut.fi/en #ihmisellistätyöelämää
Tampere Trade Fairs Group, tampereenmessut.fi/en, firstname.lastname@tampereenmessut.fi
Johanna Hannelius, Programme Producer, tel. +358 400 399 577
Sirkka Laine, Communications Specialist, tel. +358 40 612 9081